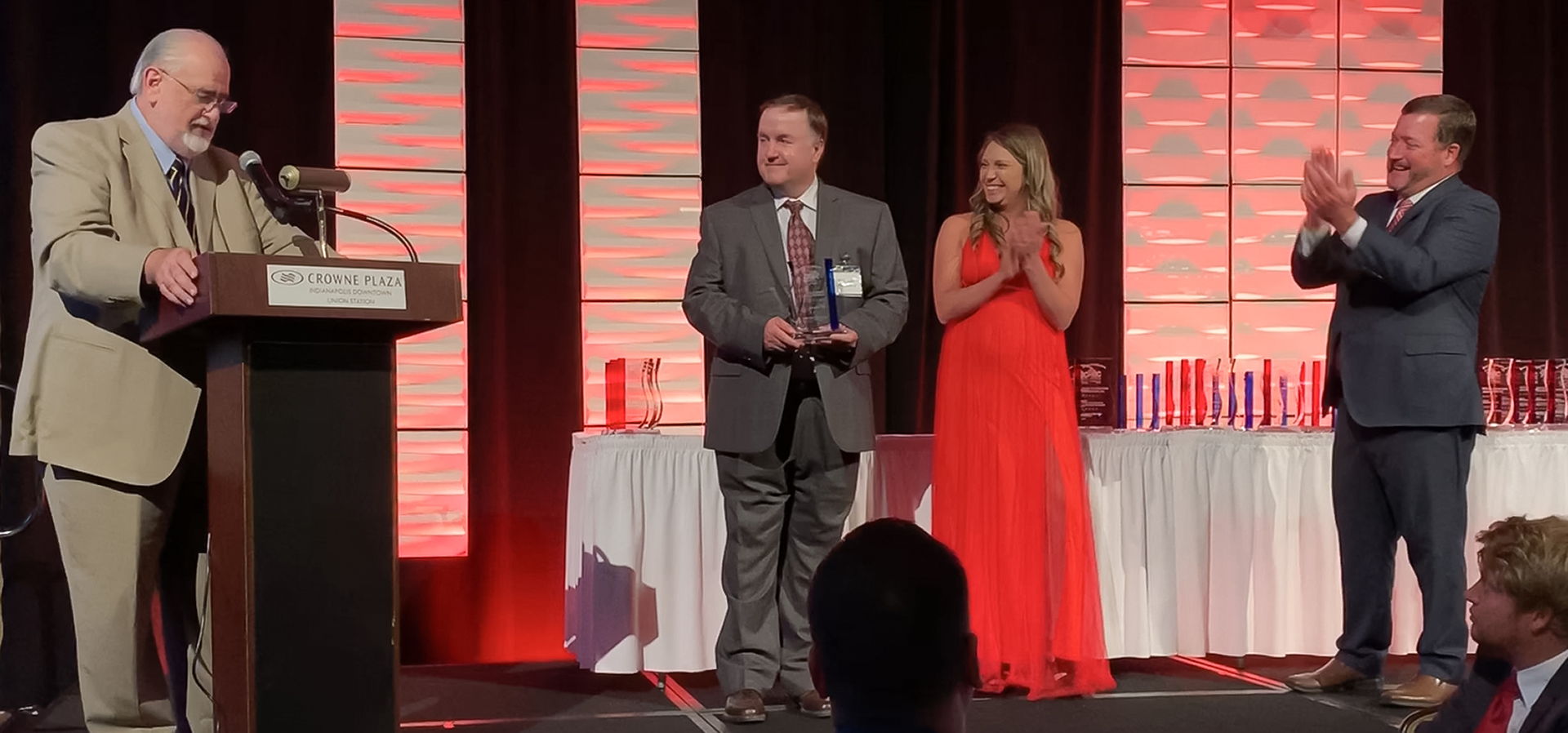 Mike Runnebohm accepts the honors the Associated Builders and Contractors Merit Shop Construction Awards Gala in Indianapolis.
Five Runnebohm Construction projects have been honored for outstanding quality of work by a leading contracting industry association.
The projects were presented the Award of Merit at the 2019 Merit Shop Construction Awards Gala hosted by the Associated Builders and Contractors of Indiana/Kentucky on September 26 at the Crowne Plaza in Indianapolis.
ABC recognizes outstanding member projects to build greater awareness in local communities of the quality of work produced by Merit Shop contractors and their employees. The Excellence in Construction competition represents the quality of the companies in ABC.
Based in Shelbyville, Indiana, Runnebohm Construction brings a "Solutions. Not Surprises." approach to each project. The company values every phase – from planning and engineering through construction. Employees are dedicated to delivering a quality product, on-time and within budget.
The Runnebohm projects selected by the ABC judging panel included:
Batesville Fire Station
Runnebohm Construction helped rehabilitate this fire station to modernize its aesthetic and increase thermal efficiency. The Batesville Fire Department continued operations during selective demolition and installation. The project included replacing the roof and window systems, installing a new brick veneer, and adding insulated metal panels or EIFS to degrading exterior walls. The communications tower was also given an upgrade in functionality. The city of Batesville and the fire crew has a lot to be proud of with their newly remodeled fire station.
Beaty Construction
Runnebohm Construction served as General Contractor to build Beaty Construction two new buildings that would come to serve as their new headquarters. Both buildings used precast concrete panels, have conventional steel roofs, and utilize an abundance of glazing throughout. A 25,000-gallon storage tank was installed for the fire suppression system to have adequate pressure and capacity, as the site is currently utilizing a well. The maintenance building is 14,000-sf including a partial mezzanine and has an overhead crane. A full-length maintenance pit allows easy access to below their equipment. A 140-ft long dedicated wash bay employs a water reclamation system to recycle water when needed. The office building is 12,000-sf and houses modern offices, open concept workstations, varied-sized conference rooms, an employee kitchen, and a room for training and presentations. Premium finishes are used throughout to give this project a cutting-edge aesthetic.
Cincinnati Children's Network
Runnebohm Construction served as General Contractor on this Batesville location for the Cincinnati Children's Network. It all started with site work that involved extensive preparation, retaining walls, and deep site fill due to the existing grade. Contained within the 10,000-sf medical office building is a large nurse station surrounded by exam rooms and treatment rooms. The facility is completely secure and requires key card credentials to access private areas. The structure is comprised of precast concrete panels and bar joists. A portion of the precast is stamped and painted to appear as brick-and-mortar accents. An aluminum canopy covers the glass storefront entry system and is equipped with integral lighting. For heating and cooling, a high-efficiency system was installed with remote diagnostics and controls. This facility is a great example of innovative technologies in the medical office sector.
NTK Precision Axle Corporation
NTK Precision Axle Corporation is a global supplier of special vehicle parts that supply to 15 different automakers. Runnebohm Construction, in partnership with Maeda Corporation, constructed NTK a facility in Anderson to serve as their second Indiana location. The footprint totaled over 319,000-sf and included an office bump out of over 18,000-sf to house the plant's managerial staff. In the main plant area, parts are manufactured and either processed for shipping or stored for future use. For the exterior, precast concrete panels were used throughout. Inside, multiple overhead cranes help with operations. With this new facility, NTK's presence in Indiana is even greater.
Premier Ag
Runnebohm Construction served as General Contractor for this Shelbyville location that included a centrally located site of almost 40 acres. The large property functions as an efficient campus, with three new buildings, various outside and tank storage, and a designated flow of traffic. Two pre-engineered metal buildings house the company's new office headquarters and a state-of-the-art agronomy facility, which features two loadout bays, a mini-bulk filling station, herbicide storage, and liquid fertilizer storage. Everything utilizes automated software that accurately quantifies loads and sends data to the office for inventory and billing. The once empty site is now helping Premier 1 Companies to thrive.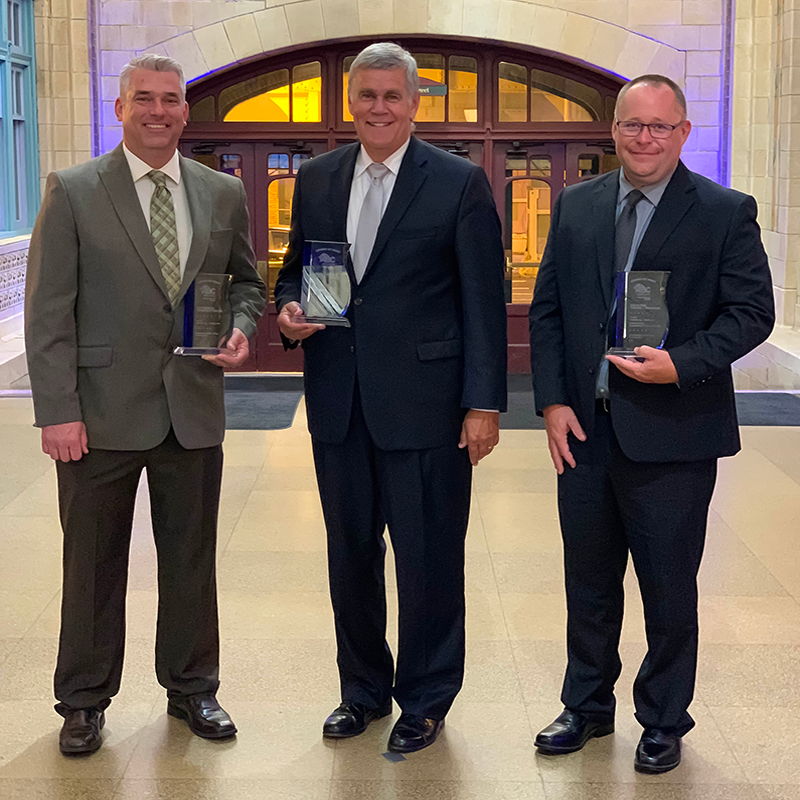 Kris Lasure, Harold Cooper and Ben Hoene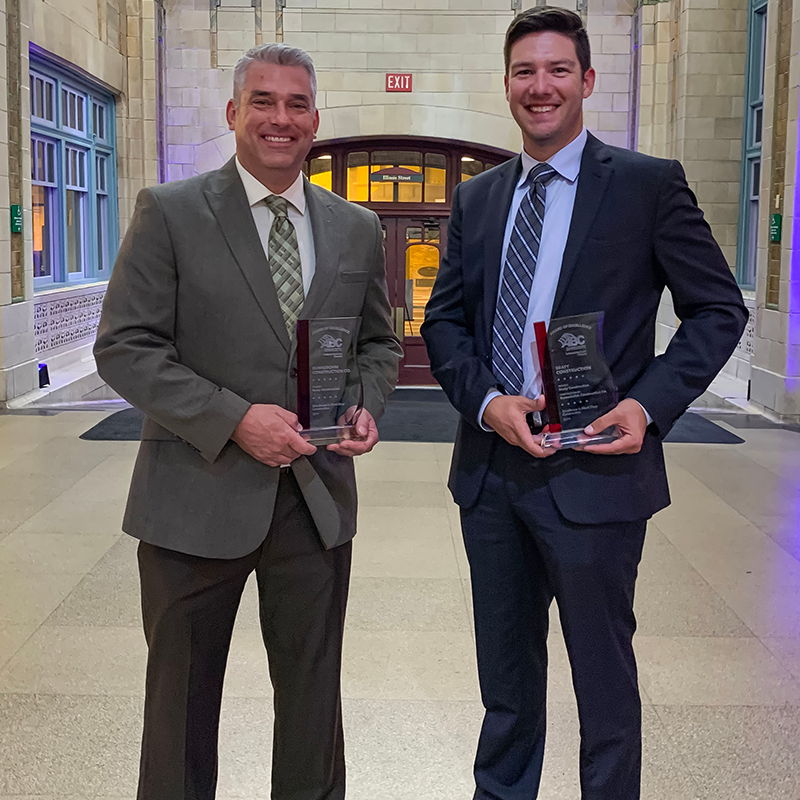 Kris Lasure and Kyle Beaty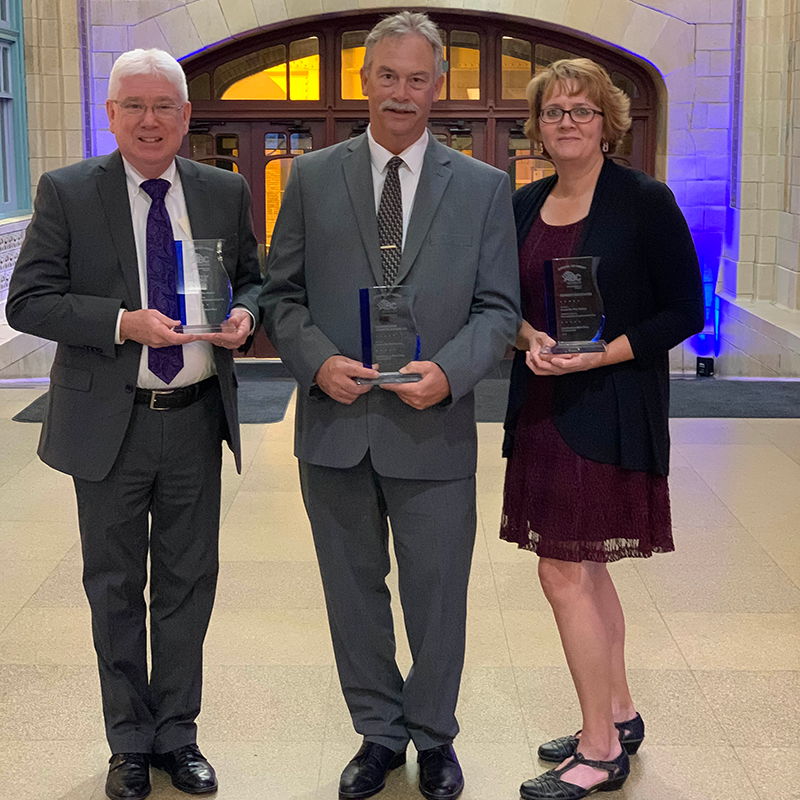 Mike Bettice, Jim Marshall and Mary Ellen Wolf