By JEFF BROWN
Shelbyville News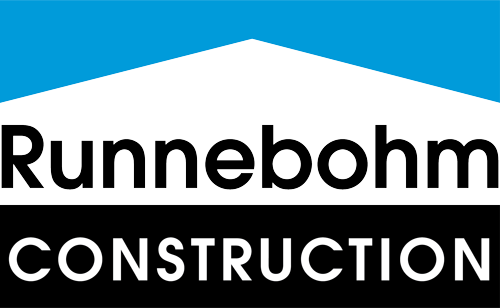 The familiar black, blue and white signs signaling Runnebohm Construction is on the job has adorned many of Shelbyville's most visible structures over the last half century.
The company's slogan "Solutions. Not Surprises." is a big reason why. That attention to detail and the ability to finish a project on time has given Nick Runnebohm's homegrown business a steadfast reputation within the industry.
With the exception of a three-year stint in the U.S. Marine Corps, Nick has only known construction work – on many levels. He became part of the third generation of his family to work in construction after getting his hands dirty for the first time as a teenager.
Upon graduating from Waldron High School in 1957, he joined the Marines and spent three years at Camp Pendleton in California. Rather than enlist for four more years, Nick chose to come home. And return to the family business – the one he actually liked.
Growing up on a dairy farm in Shelby County, it did not take long to realize milking cows was not for him.
"(Construction) is what I enjoyed doing," said Nick. "I grew up on a dairy farm and I knew that was one thing I didn't want to do. We had to get up at 4 a.m. to milk the cows before you went to school and when you got home, you had to milk to cows again. That's one thing I knew I didn't want to do."
After several years working for his father's company, Nick opted to strike out on his own in January 1968. Nothing came easy early on.
"Those first few years I did a little bit of everything," he said. "I built houses. I did some work on farms but I finally decided after 2-3 years, I was not getting anywhere. So I decided to concentrate on industrial and commercial (work). It was the best thing I ever did."
The first job came from St. Joseph's Catholic Church and its school. A bus barn was needed.
"It was built behind the house where the nuns lived," recalled Nick. That structure later became where food was served during the annual St. Joe Festival.
Larger jobs followed and each one completed strengthened the company's reputation and produced enough resolve to survive the early 1970s recession.
"I came within about three weeks of going bankrupt," he admitted. "I hadn't made much money to speak of. I didn't have any work at all. Everyone quit spending money."
Loyal to his crew, Nick refused to let them go. Then a steel erection job in Seymour came along.
"My crew was so bored, they really blew that job away," laughed Nick. "We made a good enough profit that we survived."
And Nick learned a lesson.
"After that, I made up my mind I would become financially stable," he said. "I reinvested every month what I made back into the company. So when the early '80s recession came along, I was able to skate through it pretty darn easy."
Runnebohm Construction started growing and so did Shelbyville's ties with foreign companies. Several major manufacturers now located locally used Runnebohm Construction.
"What amazes me now is most of my jobs, and we're just a little company in Shelbyville, Indiana, most of my jobs are with foreign companies," he said.
The laundry list of businesses that have hired Runnebohm Construction is extensive. What started with essentially a wooden bus barn, Nick Runnebohm now includes Knauf, Freudenberg, Ryobi, Toray Resin, PK USA and Brazeway as customers. The new Kimura facility is the latest Japanese company to hire locally.
ReNovo was built by Runnebohm. Shelbyville Paint & Wallpaper was built by Runnebohm. The Meridian Park Family Aquatic Center was built by Runnebohm. The concrete foundation at the year-old MHP Medical Center was set by Runnebohm Construction.
All that work continues because of the company slogan "Solutions. Not Surprises."
"When you start a job, there are not hardly any good surprises," said Runnebohm. "Normally they are negative. So many of my competitors would intentionally leave stuff out of jobs and try to jack them up. We do our best to make darn sure there are no surprises. We put a lot of time and effort in working on the project and making sure we have everything included. That's where we came up with 'Solutions. Not Surprises.'"
Now 78 years old, Nick Runnebohm no longer handles the day-to-day roles within the company that reached a milestone earlier this year. The fourth generation, namely his son, Michael, now runs the company that is 50 years old. Nick said he hopes to celebrate later this year with a large fish fry.
The Runnebohm Construction sign is still easy to spot in the community. It means a local company is working hard to satisfy the needs of another local business. That kind of impact is seen daily around Shelbyville. Just look at everything Nick Runnebohm's company has had a hand in building from the ground up.
All because of "Solutions. Not Surprises."